Warrior News
School is a huge part of family and community life. It's where our children spend their days; it's where we gather to celebrate talent and promote the pursuit of lifelong learning. Use this page to keep apprised of the news and events that affect your family.
Emergency Permit Substitute Training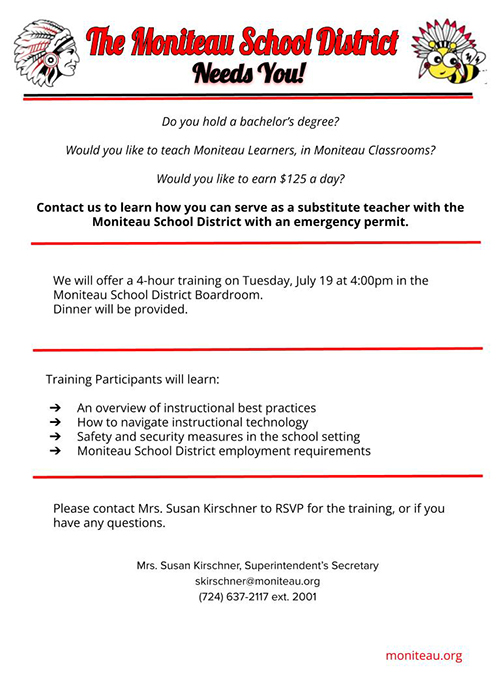 Moniteau School District is looking for substitute teachers for the 2022–2023 school year. If you have a bachelor's degree and the time and desire to help Moniteau Students learn and grow, review the training's flyer and consider joining our team. The daily substitute teacher rate is now $125. Contact us to learn how you can serve as a substitute teacher with the Moniteau School District with an emergency permit.
We will offer a four-hour training on Tuesday, July 19 at 4:00 p.m. in the district board room with dinner provided. In this training, participants will learn an overview of instructional best practices, how to navigate instructional technology, safety and security measures in a school setting, and Moniteau School District employment requirements. Please contact Mrs. Susan Kirschner at (724) 637-2117 ext. 2001 to RSVP for the training or if you have any questions.
Summer Time Assistance
Even though it is summer time, assistance is still available to meet any and all needs that may come up. Assistance is available with insurance needs, financial needs, mental/behavioral health needs, food needs, summer resources for kids, and more. Please see our summer time assistance flyer for more information.