Programs
We believe a student's life success is dependent upon more than just his grades. We believe to become truly "educated," students must recognize and develop their intellect, their talents, and their aspirations. Not only do we offer art, music, band, physical education, STREAM, and library education, we also advocate developing the whole person through various programs and activities available throughout our community. Here, you'll learn more about the programs your child will participate in at Dassa McKinney Elementary School.
School-Wide Positive Behavior Program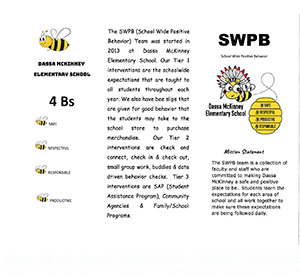 This team consists of faculty and staff who are committed to making Dassa McKinney a safe and positive place to be. Students learn the expectations for each area of school, and we all work together to follow these expectations daily.
Come listen to our students discuss valuable principles that help make our school community strong!
YouTube Videos
Be Productive
Be Responsible
Be Respectful
Fire Safety
The Dassa Dash is a race for students in pre-k through sixth grade. Our SWPB team sponsors this annual event and our P.E. teacher, Ms. Scialabba, organizes it.
Community Service
American Heart Association Annual Fundraiser
Each year our P.E. teacher Ms. Scialabba organizes a fundraising event called the Kids Heart Challenge. Our students have fun participating in Hoops for Heart or Jump Rope for Heart activities during P.E. class. They also learn the importance of staying healthy and helping others who may not have a healthy heart.
Color Blast & Basketaball Game
The color blast and basketball game were rewards to our students for the 2022 Heart Association fundraiser.
Starfish Program
This program involves a commitment we as faculty and students make at Dassa McKinney to seek out individuals to lift and encourage through small, intentional actions. We accept others differences, and we commit to take responsibility for our actions. Discover more about this program by reading the starfish story and pledge.
2022–2023 Starfish Members
5th Grade: Layla Bishop, Kyle Fend, Logan Diaz, Benjamin Baptiste, Patricia Bonzo, Emma Brewer, Anna Pavelek, Teagan Howard, Aubrey Pegano, and Teagan Hillard
6th Grade: Isla Ford, Zetta Snyder, Jackalynn Gould, Noah Hilliard, Cyrah Steighner, Corbin Rennick, and Jolie Van Lieu
Student Council
Some of our ongoing activities with student council include Box Tops for Education, weekly peer tutoring and service learning projects, like cards and care packages for veterans and others, book collections and exchanges, special assemblies, and fundraisers to benefit the school community.